External MPPT Hybrid Boost Controller
Lightweight, efficient and very quiet 420w marine wind generator, with MPPT Hybrid Boost controller.
Building on the success of the extremely popular Silent Power Blades, the original Silentwind and the SilentWind 400+ the newly launched SilentWind PRO marine wind generator features a MPPT hybrid boost controller allowing even more efficiency and thanks to the hybrid design allows connection of up to 20 amps of solar power for an all in one solution.
New Free App for both IOS and Android
Setup, adjust your settings and monitor your wind generator output and performance. Easily connect your SilentWind PRO to your smartphone or tablet via Bluetooth to manage and monitor all settings. The new external antenna supplied with the regulator ensures good connectivity. The new stop feature allows you stop the wind generator directly from the app.
Download for Android  Download for iOS
Aerodynamics from the aviation industry
By using wind tunnel testing and advanced aerodynamics combined with a three phase permanent magnet generator, with Neodymium-Iron–Boron-(NDFeB) magnets, the Silentwind PRO and Hybrid MPPT achieve an incredibly low start up speed of only 2.2m/s ( less than 4.3 knots) as well as a top output of 420w at only 1350 RPM, 30% less rotation speed than other 400w generators.
Silent Power Blades included as standard
Includes the incredibly quiet Silent Power Blades. Hand laminated, UV-resistant carbon blades, successfully tested according to DIN EN 61400-2 at hurricane speed 122 km/h (5480 rpm, with close to speed of sound at the blade tips). Almost silent with 70% less noise compared to other generators. This specially shows up in the frequency range between 1 and 12.5 kHz, that is most disturbing to human ears.  See Our Comparison video
 External High Tech MPPT Hybrid Boost Charge Controller
Boost-Function: The adjustable boost function increases performance and optimizes the power yield, in light winds an earlier start of charging is guaranteed and an increase in performance is also possible in high wind regions.

Bluetooth-Function: The controller has a a built-in backlit LCD display showing all system parameters. This data can also be displayed on Android and IOS devices via a Bluetooth connection. Using this connection, system set-up and adjustments can also be done from a mobile device. The new external antenna increases range and improves connection.

Multi-stage charge process: After reaching the set charge voltage, the controller will switch to trickle charge mode, allowing a true 100% charge and avoiding battery discharge. Batteries are maintained in this full charge condition without the risk of gassing, an ideal solution for long battery life. The charge end voltage is adjustable for all battery types including Lithium.

Stop function: When the batteries are fully charged, the Silentwind PRO automatically stops or switches to trickle charge mode with a significant reduction in RPM. The Storm mode activates above a wind speed threshold to preventive damage and the new App features a stop function to remotely stop the wind generator directly from your mobile device..

Military grade components: By using certified military electronic components, the Boost Controller is insensitive to extreme temperatures, and remains stable even with electromagnetic interference.


Marine aluminium powder coated body
The compact aluminium body of the Silentwind is both lightweight and wind tunnel optimized for minimum noise. The elegant design will not look out of place even on the most stylish yachts.
Voted Best Choice by Skipper 
Voted as the best choice for all wind conditions.
Real world testing in the Caribbean
http://www.info-center-online.com/boat/dt_windvereng.htm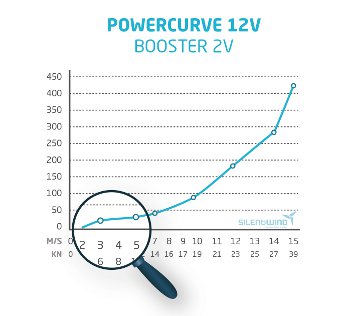 Compare these figures to other units:
Silentwind PRO technical details:
Generator type: Permanent magnet generator, 3 phase, Neodymium-magnets

System voltage 12, 24 and 48 VDC models

Rated Power Output: 420 watts

Start up Wind Speed: 4.27 Knots (2.2 m/s)

Start up Charging: 4.9 Knots (2.5 m/s)

Charging Indicator: LED-blue, on the underside of generator body

High Wind Speed Test: 65 knots with no problems

Rotor Diameter: 1.15m

Weighs only 6.8 kg

Blade weight: 150g per blades (low centrifugal force)

Blade Material: Carbon Fibre CFK, Hand laminated

Rotation Speed: 480 - 1420 rpm

Color: White RAL 9010, powder coated

Warranty: 3 years

Packaging: 780mm x 400mm x 210mm 10 kg
External MPPT Hybrid Boost Controller technical details:
System voltage 12, 24 and 48 VDC models

Wind and Solar generation capacity: Wind (12v - max 40A) Solar (12v - max 20A)

Max Power input wind generator: 600W

Max Power input solar panel: 300W

Voltage adjustable for the battery types: Gel, AGM, Acid and Lithium

LCD-display of all relevant working data: W, A, V, Ah

Wind turbine MPPT point adjustable

Integrated electronic brake – charge limitation and storm brake

Eight models of load output optional

Cable connection – screw terminals

Connection – Bluetooth