Manufactured in Colorado, USA by Primus Windpower

The Air Series small wind generators are by far the world's best-selling wind generators with over 135,000 units sold worldwide. The Air-X Marine was relaunched by Primus Windpower in 2012 due to high demand. The Air-X has an incredible 400w output squeezed into a small lightweight body with built in charge controller. It is recommended in areas with higher wind speeds and is specifically designed for use in marine environments whether on yachts, buoys, coastal or industrial installations. The heavy-duty design, a 5 year warranty and a full list of available spare parts makes the Air-X marine a sound investment and is still a favourite among sailors.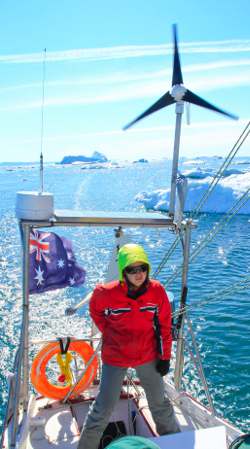 Less than 6 kilos
The Air-X weighs less than 6 kilos, compared to as much as 20 kilos with other 400w models. Weight is important as it simplifies installation by requiring less support and can be mounted on a pole on the stern or attached to an arch.


The Sailors Choice
The Air-X marine has a powder coated marine grade aluminium body for maximum corrosion resistance and has been a favorite among sailors since its introduction, probably the most widely used generator on sailing boats.


Optimized for higher Wind Speeds
At the factory setting of 14.1 volts (12 volt model) adjustable for different battery types, the Air-X can produce over 25 amps with a little over 20 knots of apparent wind, conditions which when sailing upwind are not uncommon. For constant high wind areas such as the trade wind regions we can expect 128 - 260 Ah/day with wind speeds from 15 - 20 Knots.


Built-in Charge Regulator
The Air-X Marine features a sophisticated built in charge regulator allowing connection directly to the batteries (circuit breaker or fuse is recommended) with a LED indication light on the bottom of the unit. The light turns on when the unit is charging and flashes when the internal regulator senses that the batteries are charged.


Now available with Silent Power Blades
All the advantages of the Air-X Marine and now with the ultra silent performance of the Silent Power Blades. The Silent-X is supplied standard with a balanced set of Silent Power Blades in place of the original Air-X blades.


See the results of real world testing in the Caribbean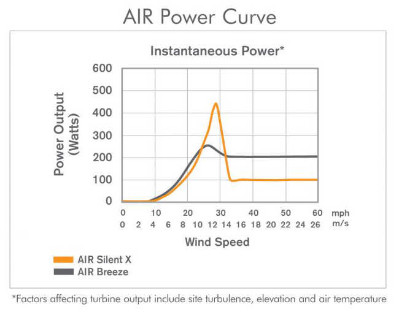 Compare these figures to other units:


* Includes a three position stop switch *


Technical Specifications 
Shipping Weight - 7.7 kg  686 x 318 x 229 mm

Mount 

1.9 inch (48.3mm) outside diamter pipe

Start-Up Wind Speed 8 mph (3.58 m/s)

12, 24, and 48 VDC Versions 

Rated Power 400 watts at 28 mph (12.5 m/s)

38 kWh /month at 12 mph (5.4 m/s)

Microprocessor-based smart internal regulator with peak power tracking

Cast aluminum powder coated body

3-Carbon fiber composite Blades 

Electronic torque control Overspeed Protection 

110 mph (49.2 m/s) Survival Wind Speed
Product Code
Air-X - Model
Air-X - Voltage
Availability
Price

PRIMUS WINDPOWER 1-ARXM-15-24

€

1,499.00

(inc. VAT)
€

1,238.84

(ex. VAT)

PRIMUS WINDPOWER 1-ARXM-15-12

€

1,499.00

(inc. VAT)
€

1,238.84

(ex. VAT)

PRIMUS WINDPOWER 1-ARSM-15-12

€

1,816.95

(inc. VAT)
€

1,501.61

(ex. VAT)

PRIMUS WINDPOWER 1-ARSM-15-24

€

1,816.95

(inc. VAT)
€

1,501.61

(ex. VAT)

PRIMUS WINDPOWER 1-ARXM-15-48

€

1,499.00

(inc. VAT)
€

1,238.84

(ex. VAT)

PRIMUS WINDPOWER 1-ARSM-15-48

€

1,816.95

(inc. VAT)
€

1,501.61

(ex. VAT)