Lightweight, extremely strong with plenty of power.
Harken Radial winches feature a specific drum surface for each winch size and material ensuring the absolute optimum grip. Diagonal ribs (rather than textured abrasive materials) maximize gripping power and at the same time greatly reduce line abrasion. When easing out a line, the angle of the ribs helps to force the line down, preventing overrides and providing a smooth, controlled release. Aluminium drums and high-strength composite self-tailing jaws and skirt save weight. Composite roller bearings reduce friction under load and don't require lubrication. Load-carrying gears and pins are 17-4PH stainless steel for strength and durability.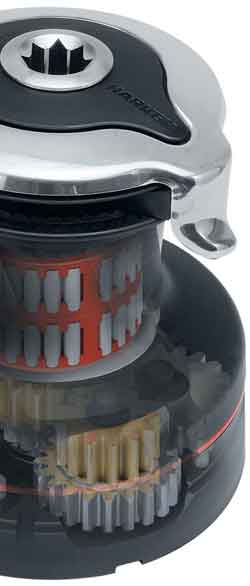 Integrated Stripper Arm - The strong, one-piece stripper arm completely covers the winch top for a stable platform that prevents fingers and clothing from catching in moving parts. The arm can be adjusted to multiple positions after the winch is mounted, and is shaped to smoothly feed line into and out of the self-tailing jaws.
Lightweight, High-Strength Materials - Composite roller bearings and bushings reduce friction under load, have excellent corrosion resistance, and don't require lubrication. Snap-fit design keeps bearings captive in high-strength Delrin® cage when drum is removed for maintenance. Load-carrying gears and pins are 17-4PH stainless steel for strength and durability. Weight savings of 25 to 50 percent compared to other winches
Easy to Service and Maintain - Winches can be disassembled and serviced on deck. The socket, washer, and screw-top snap-fit together to simplify maintenance and for mistake-free assembly. 
Power-Grip Jaws - Composite self-tailing jaws of long-glass fibre are shaped for easy line entry and optimum gripping power. The spring-loaded upper jaw adjusts under line pressure to accept a variety of line sizes. Teeth grip evenly with or without load.
Easy and Quick Installation - A patent-pending stud-bolt mounting system allows one person to quickly install a winch without removing the drum, a simple three step process.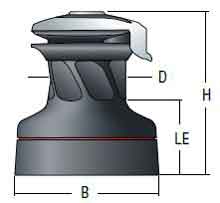 Model

Drum

D mm

Base

B mm

Height

H mm

Entry

LE mm

Line

mm

Weight

kg

 Gear

Ratio

Speed 1

 

Gear

Ratio

Speed 2

Power

Ratio

Speed 1

Power

Ratio

Speed 2

20STA

73

137

148

61

6-12

2.4

2.76:1

 

19.2:1 

 

35.2STA

80

149

170

70

8-12

3.6

2.13:1

5.65:1

13.5:1 

35.9:1

40.2STA

80

157

175

82

8-12

3.8

2.13:1

6.28:1

13.5:1

39.9:1

46.2STA

100

184

201

90

8-14

5.2

2.30:1

9.17:1

11.7:1

46.5:1

50.2STA

110

194

212

97

8-14

7.6

4.80:1

14.4:1

20.3:1

61.0:1

60.2STA

120

236

246

116

8-16

10.2

3.2:1

10.5:1

16.2:1

52.0:1

70.2STA

130

240

256

111

10-18

11.3

5.7:1

18.5:1

22.2:1

72.0:1
Sizes 60 & 70 are also available in a three speed model.