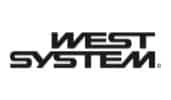 West System 406 Colloidal Silica is a thickening additive used to control the viscosity of West System Epoxy and to prevent runoff in vertical and overhead joints. 406 Colloidal Silica is the most versatile of all the West System fillers and is very strong and ideal for general bonding and filleting.
Additional features:
Very Strong

Creates a smooth mixture resulting in a smooth surface for fairing

Improves strength

Improves abasion resistance

Can be combined with other fillers
Available in 60g recommended for the 1.2 kg Epoxy A Pack and 275g containers recommended for the 6.0 kg Epoxy B Pack.