Perfect for larger boats from 40ft - 50ft. Tylaska T16 Snap Shackles suit applications requiring high strength and low weight. Thanks to their meticulous design and construction in aerospace grade 17-4 PH stainless steel, they have a tremendous strength to weight ratio with a breaking strength of over 7200 kg and a weight of less than 400 grams.
Currently only available in SB and LB models: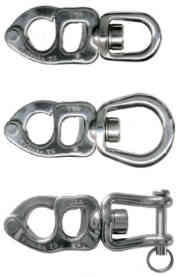 SB - Standard Bails  - Provide ample room for attaching a line while keeping weight and overall shackle length to a minimum. Ideal for halyards and sheets.



LB - Large Bails - Provide room for up to three additional shackles or a combination of shackles and lines. Ideal for spinnaker sheets, guys or other multi-line applications.



CB - Clevis Bails - Do not require splicing and provide moveable attachments to rings, deck fittings, furlers, rolling furlers, etc. Ideal for many uses.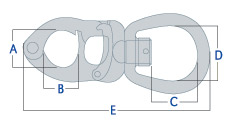 | | | | | | | | | | |
| --- | --- | --- | --- | --- | --- | --- | --- | --- | --- |
| Model | A | B | C | D | E | Thickness | Weight | Work Load | Break Load |
| T16 SB | 23.0mm | 22.2mm | 19.8mm | 21.4mm | 119.9mm | 13.2mm | 258gm | 3628 kg | 7257 kg |
| T16 LB | 23.0mm | 22.2mm | 33.3mm | 35.7mm | 136.5mm | 13.2mm | 360gm | 3628 kg | 7257 kg |
Product Code
Model
Availability
Price

€

350.00

(inc. VAT)
€

289.26

(ex. VAT)

€

366.94

(inc. VAT)
€

303.26

(ex. VAT)