The IC-M73 Euro & Euro Plus, the latest professional marine handheld VHF from Icom. 
Marine professionals worldwide have chosen the Icom IC-M71 for its robustness, reliability and ease of use. Icom have built on those features and added other innovative improvements. The result is the IC-M73, the next generation of handheld transceiver for marine professionals and anyone else who insists on the best. 
Last Call Voice Recording (only Euro Plus)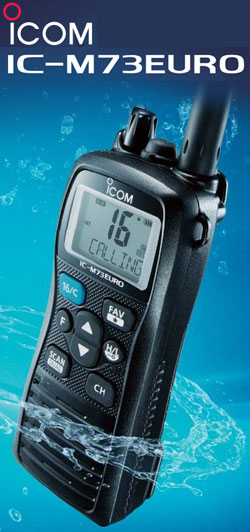 The last call voice recording feature automatically saves the last min of an incoming call ensuring you will not miss important information. You can also start recording manually at any time and record up to 1 min of a call. 
Active Noise Cancelling Technology (only Euro Plus)
The built-in bidirectional active noise cancelling microphone and speaker reduce background noise by up to 90% and improves both your transmitted voice and incoming calls. You will hear and be heard better and clearer. 
700mW Loud Speaker & Bass Boost Function (only Euro Plus)
The IC-M73 EURO & EURO PLUS uses a BTL amplifier that doubles the audio output and delivers 700mW output from the built in speaker. Signal processing technology emphasizes low pitched sound to provide a richer bass ensuring clear sound even in noisy environments. The bass boost function also improves clarity on transmitted signals. 
6W RF Output Power
The IC-M73EURO & EURO PLUS's 6 Watts of transmit power will provide maximum range communications. 
IPX8 Advanced Waterproofing
Rated to IPX8 (1.5M for 30 minutes) for use in the rain, snow or any other severe weather conditions. 
Slim, Hourglass Body, Wide Viewing Angle LCD
As with the M71, the IC-M73PLUS features a durable and rugged body with the characteristic hour glass shape for easy handling, user friendly operation and long life. A high intensity LCD offers bright, easy to read characters with a wide viewing angle. 
Features: 
Last Call Voice Recording 

(only Euro Plus)

Active Noise Cancelling Technology 

(only Euro Plus)

Bass Boost Function 

(only Euro Plus)

700mW Loud Audio

6W RF Output Power

IPX8 Advanced Waterproofing

Slim, Hourglass Body, Wide Viewing Angle LCD

AquaQuake water draining function

Dual/Tri-Watch function for monitoring Channel 16 and/or call channel

Battery indicator shows remaining battery power in 4 levels

Favourite channel and tag scan functions