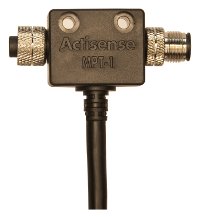 The 3 metre Actisense A2K-MPT-1 Micro T power cable features quality NMEA 2000 male and female quick fit connectors allowing ''plug and play'' connectivity. The double power connections in the cable allow either all the network to be powered together or alternatively a separate power supply for the two sides of the network allowing greater flexibility. Designed by Actisense, the connectors are shaped to allow easy fitting and the threaded lock ensures secure connections.

All Actisense NMEA 2000 connectors and cables are UL certified and NMEA certified and are fully compatible with other NMEA connectors and devices as well as the DeviceNet® standard.

A basic NMEA 2000 Network requires the following components which can then be extended as required.
1 x Power cable for connection to 12V DC.

1 x Micro Cable - available in different lengths.

1 x Micro T connector to connect a device.

2 x Terminators - 1 male and 1 female - 1 for each end of the network.

See the Actisense A2K-KIT-1 NMEA 2000 Starter Kit for an all in one kit to start your NMEA 2000 network.