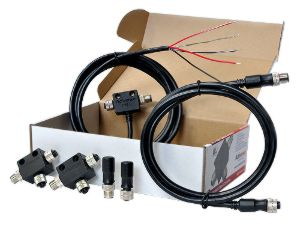 Simple, all in one solution for setting up an initial NMEA 2000 network and connecting two devices. The Actisense A2K-KIT-1 allows quick network setup and provides for future expansion as neccesary. The A2K-KIT-1 contains a power cable for powering the network, a 2 metre micro backbone cable and 2 T-Connectors for connecting devices, a micro female termnator and a micro male terminator for terminating the netork and for simple future expansion with standard NMEA 2000 components.
Everything you need for the initial setup:
1 x A2K-MPT-1 Micro Power T

1 x A2K-TER-F NMEA 2000 micro terminator female

to terminate one end of the network

1 x A2K-TER-M NMEA 2000 micro terminator male

to terminate the other end of the network

2 x A2K-T-MFF Micro T Piece

to allow two NMEA 2000 devices to connect to the network

1 x A2K-TDC-2M NMEA 2000 2 metre micro cable assembly

to connect the components
All Actisense connectors follow the DeviceNet standard and are NMEA 2000 certified and compatible.