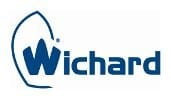 The top of the range, full featured EN1095 elastic tether from Wichard.
Using an elastic tether allows free movement across the deck without tangling or tripping. The tether stretches from 1 metre to a maximum of 2 metres as recomended by the ISAF regulations. Features one patented phosphorescent double action safety hook and a quick opening snap shackle with overload indicator. Full compliance with all ISAF recomendations for those who take safety seriously.

Extract from ISAF Offshore Special Regulations:
5.02.1 Each crew member shall have a harness and safety line that complies with EN 1095 (ISO12401) or equivalent with a safety line not more than 2m in length.

5.02.3 A safety line purchased in 1/01 or later shall have a coloured flag embedded in the stitching, to indicate an overload. A line which has been overloaded shall be replaced as a matter of urgency.

5.02.5 It is strongly recommended that :- e) snaphooks should be of a type which will not selfrelease from a U-bolt (see OSR 5.02.1 (a) and which can be easily released under load. Crew members are reminded that a personal knife (see the Toollogic SL1, our personal choice) may free them from a safety line in emergency

.