MPPT solar regulator from Victron Energy with up to 50 amps output for larger installations.
Ultra-fast Maximum Power Point Tracking (MPPT) - produces up to 30% more power compared to a PWM controller and up to 10% more power compared to slower MPPT controllers especially during cloudy days and fast changing conditions, when light intensity is changing continuously.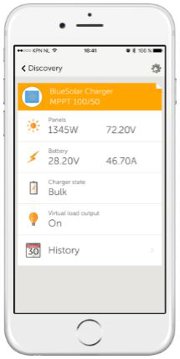 Outstanding conversion efficiency - no cooling fan to reduce output allows maximum efficiency to exceed 98% with full output current up to 40°C

Flexible charge algorithm - a built in rotary switch allows easy selection of the eight pre-programmed charging algorithms. The charge settings are also fully programmable allowing optimum charging for almost any installation.

Extensive electronic protection - fail safe installation and peace of mind when left unattended with over-temperature protection and power derating when temperature is high as well PV short circuit protection, PV reverse polarity protection and PV reverse current protection.

Built in temperature sensor - a simple solution to avoid running a battery temperature sensor. The sensor compensates absorption and float charge voltage for temperature and further protects the battery bank.

Real-time data display options - With built in VE Direct connectivity the 100 series regulators can connect to the Victron Energy Control and Display panels and with the optional Bluetooth smart dongle all system parameters are easily displayed on Apple and Android smartphones and tablets with the free App.


BlueSolar 100 Series MPPT Regulators

BlueSolar MPPT 100/30

BlueSolar MPPT 100/50

Ref.

SCC020030200

SCC020050200

Battery Voltage

12/24V Auto Select

 

 

Max charge current

30 Amps

50 Amps

Max Solar Panel Power 12V Systems

440W

700W

Max Solar Panel Power 24V Systems

880W

1400W

Max Solar Panel Voltage OC

100V

100V

Max. Solar Panel current IC

30 Amps

50 Amps

Power Terminals

13 mm² / AWG6

Dimensions

130 x 186 x 70 mm

Weight

1.3 kg