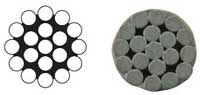 Stainless steel marine grade AISI 316 (A4) 1x19 rigging wire for shrouds, stays, lifelines etc.
Swaged terminals include professional swaging in the price.

Just send us your dimensions and get your new rigging made to measure. Alternatively for easy and cost effective rigging replacement we recommend ordering the required cable length plus 1 metre (approx.) with a swaged terminal on the upper end (mast fitting). The lower end can then be fitted with a swageless terminal allowing exact measurement and final fitting onboard.
Sold by the metre.
| | | |
| --- | --- | --- |
| Diameter | Break Load | Weight per metre |
| 3 mm | 750 kg | 0.045 kg |
| 4 mm | 1350 kg | 0.079 kg |
| 5 mm | 2100 kg | 0.124 kg |
| 6 mm | 3000 kg | 0.178 kg |
| 7 mm | 4100 kg | 0.243 kg |
| 8 mm | 5400 kg | 0.317 kg |
| 10 mm | 8400 kg | 0.494 kg |
| 12 mm | 11500 kg | 0.712 kg |