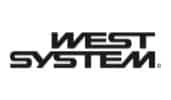 West System Epoxy B Pack 6 Kg (5 Kg + 1 Kg Fast)

West System Epoxy B Pack 6 Kg (5 Kg + 1 Kg Slow)
Highest quality marine epoxy resin essential for strong and long lasting repairs, modifications or construction anywhere onboard. West epoxy is known and respected worldwide and is easy to use and is one of the strongest marine epoxy systems available. Can be used with all West System fillers and thickeners for a multitude of jobs onbaord from wetting out, adhesion, bonding, filling and fairing.
Available in 5 kg metal tin and 25 kg metal drum.

Hardener required. Available in fast 205 with a pot life of 10 to 15 minutes or slow 206 with longer pot life and useful when working in higher temperatures.
Mixing ratio 5:1 with an optional pump set for accurate and easy preparation.
This product can only be shipped by ground transport.