Elegant, LED cabin light with built in touch sensitive dimmer and blue LED night light.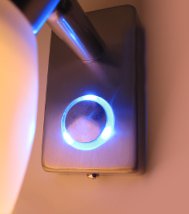 The Lunasea LED cabin light features a brushed nickel finish, an opaque glass shade and a touch sensitive blue LED multi function dimmer switch which also serves as a blue mood/night light. Touch the dimmer switch once and the blue LED dimmer switch is illuminated, perfect for a night light or mood light, touch it a second time and the warm white LED is also illuminated, a third touch turns off both functions. When the lamp is on, a press and hold adjusts the light intensity which is then memorized when the lamp is turned off.

A very elegant design which would not be out of place on the most luxury yachts.
Features:
Warm white LED

Suitable for 12VDC systems

Brushed Nickel Finish

Swivel Head with Opaque Glass Shade

Easy installation with hidden mounting

Rear or left side cable entry

Consumes only 3 watts

Base - 72mm x 39mm

Standoff - 110mm - 115mm

Mounting screws included