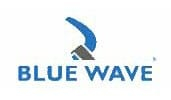 A revolutionary new way of securing open body rigging screws (turnbuckles). The Blue Wave Smart Pins are a range of stainless steel pins fastened to a UV and saltwater resistant Velcro band. The Blue Wave Smart Pins avoid the snagging of sails and sheets and the cuts and scrapes typical of split pins. The Smart pins attach easily and securely around the turnbuckle. They can be removed and refastened without the use of tools, even with cold and wet fingers.
Available with the following pin sizes:
2mm x 8mm for 1/4" rigging screws

2.5mm x 10mm for 5/16" - 3/8" rigging screws

3.2mm x 13 mm for 7/16" - 1/2" rigging screws

4.0mm x 20mm for 5/8" - 3/4" rigging screws

Sold Individually


See the Loos & Co Tensiómetro Profesional de Jarcia for easy and accurate rig tuning.