Please sign in so that we can notify you about a reply

Manufactured in Colorado, USA by Primus Windpower

The fifth generation of the Air series wind generators which have sold more than 150,000 units worldwide, the world's best-selling wind turbines. The new generation Air Breeze has has been designed for longer life, better output and quieter performance. It is recommended for areas of low to moderate wind  speeds and in can actually generate more power than 400w wind generators over the same period of time. The Air has a lower start up speed and produces more energy in low to mid wind speeds which for some areas such as the mediterranean are more common, over a period of time it there produces more energy than 400w wind generators optimized for higher wind speeds.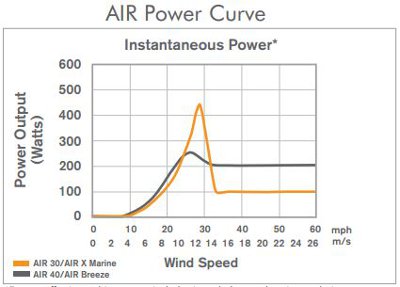 Key updates and features
Mechanical and software refinements to alleviate stress, heat buildup and improper signal control. Prevents overheating and cracking.

Optimized software contributes to more consistent energy output

Better component spacing allows for better temperature circulation

Higher temperature rated components protects circuitry

New triple-layer anti-corrosive aircraft quality paint

Less opportunity for radio interference

Green signal LED differentiates from the original

5 year warranty
Less than 6 kilos - As with its predecessor, the New Air Breeze weighs less than 6 kilos with an integrated electronic charge controller allowing simple installation. Performance and good looks are other reasons why the Air Breeze Marine is a top choice among sailors. Another big reason is energy output. Whether you need power for refrigeration units, auto-pilots, water makers, lights, navigational devices or communications gear, the Air Breeze Marine and a good wind can handle the load.
Less variable power curve than its predecessor and competition - The software of the New Air Breeze has been optimized for a more consistent energy ouput throughout the wind range but particularly for lower wind speeds and the start up speed has been reduced. In many areas, wind speed varies throughout the day and drops at night reducing the average daily or monthly wind considerably. High wind speeds are rare and short-lived and when anchored we try our best to find a sheltered spot. The New Air Breeze has been optimized for a lower start up speed and higher performance at lower wind speeds and can outperform even 400w units. By comparing the figures below,  we can see that at 7 knots average wind speed the New Air Breeze considerably outperforms the Air-X becoming equal at about 15 knots. For areas with lower wind speeds we recommend the Air Breeze as a cost effective, lightweight unit with simple installation. 
See the Results of Real world testing in the Caribbean

http://www.info-center-online.com/boat/dt_windvereng.htm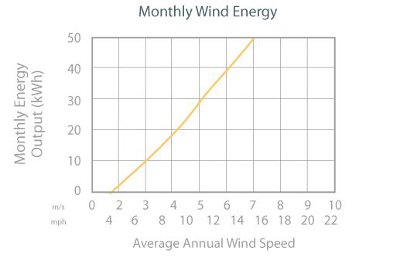 Compare these figures to other units:
Silent Power Blades





 
 * The Air Breeze Marine includes a three position stop switch *



Technical Specifications 
1.15 m Rotor Diameter

Weight 5.85 kg

Shipping Weight - 7.7 kg  686 x 318 x 228 mm 

Mount 

1.9 inch (48.3mm) outside diamter pipe

Start-Up Wind Speed  4.3

 knots (2.2 m/s)

12, 24, and 48 VDC Versions 

Microprocessor-based smart internal regulator with peak power tracking

Cast aluminum powder coated body

Injection-molded composite

Electronic torque control Overspeed Protection 

110 mph (49.2 m/s) Survival Wind Speed

5 year warranty