iKommunicate is an intelligent NMEA gateway device for converting both NMEA 0183 and NMEA 2000 data to Signal K, the new open source HTML5 based internet ready data format. IKommunicate also transmits NMEA data to the network via TCP or UDP for use with many popular apps and programs.
The original universal marine interface NMEA 0183 and newer NMEA 2000 networks have proven both reliable and a great step forward for integrating marine electronics. However, their high cost for development and certification has greatly restricted the number of manufacturers and developers interested in NMEA apps and devices.
Signal K is a a free, open source universal marine data format using standard web technologies typically used by developers for networks, cell phones, tablets and the internet, a format available to anyone. Signal K is the first truly open data format for the marine industry and is set to revolutionize how we integrate marine electronics and how we interact with the data. Although still in the early stages, Signal K already has a number useful apps and applications with hundreds more in development, such as:

See the iKommunicate website for a full list of apps, software updates and the latest manuals and information.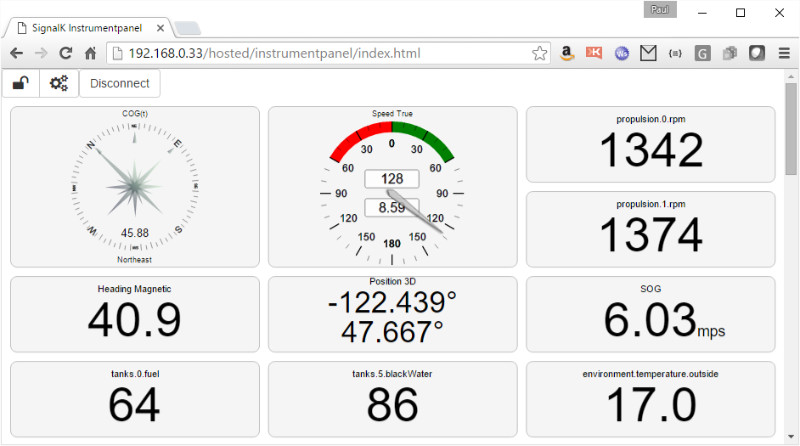 iKommunicate features three opto-isolated NMEA 0183 Inputs, two differential NMEA 0183 outputs and an NMEA 2000 network connection. The 120MHz Atmel processor, efficiently converts NMEA data it receives to Signal K. The built -in Ethernet (RJ45) connection connects the iKommunicate to the boats network allowing any device with web/network access to display the Signal K data either directly in a browser via a compatible app. iKommunicate also transmits NMEA data directlyt to ethernet network via TCP or UDP for use with many popular apps and programs.
iKommunicate now includes a 16GB micro SD card for installing Signal K web apps and has both iKompass and the popular fully customizable Instrument Panel pre-installed so you can get started straight away and see all your network data on any mobile device webpage.
Features:
The World's first NMEA to Signal K Gateway
12/24v DC Powered
NMEA 2000 Certified Gateway with Integral NMEA 2000 drop cable
Three Opto Isolated NMEA0183 Inputs and two Differential NMEA0183 Outputs
Supports Signal K Version 1 Http REST API and Delta Messages via Web sockets
Comes pre-installed with two Signal K Web Apps iKompass and Instrument Panel
Includes 8GB micro SD Card for hosting Web Pages and Apps
Also provides wireless NMEA over TCP and UDP protocols
Network Discovery via Bonjour (mDNS) and Windows SDDP
1 x RJ45 Ethernet (10/100Mb) network connection
Easy setup with built-in Web Interface
Small 135 x 120 x 50 mm black box solution