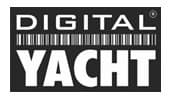 Convert your iPhone, iPad and iTouch devices into a complete navigation system.
High performance dual channel AIS receiver combined with an integrated 802.11b+g wireless access point to wirelessly transmit AIS information over a local Wifi hotspot. Designed specifically for use with iPhone, iPad and iTouch devices as well as many other devices with the triple TCP/IP, NMEA and USB outputs. built in multiplexor adds other data available on board into the single wireless feed, even an iTouch or iPad that does not have an internal GPS can now be used for navigation and the iPhone recieves the improved performance of the boats own GPS system.
Free iAIS App - Download the free iAIS app from the App store for a simple AIS display.
Compatible with iNavX - Compatible with Navionic's charts, iNavX provides a complete set of navigation functions that turns your Apple device into a full function electronic chart plotter. It supports waypoints, routes and tidal data and is beautifully simple to use. It even overlays GRIB weather data.
Triple Output - As well as sending data wirelessly, the iAIS also has an NMEA0183 and USB interface so that you can output data to a PC (via USB) and a dedicated plotter (via NMEA) for larger installations.
Built in Multiplexor - Combines NMEA data that is available on board such as GPS, depth, speed and wind etc. with AIS data into a single wireless feed or via NMEA or USB output.
Features:
World's first wireless AIS and NMEA Data server

Triple output - WiFi, NMEA 0183 and USB

Multiplexed NMEA input for wireless NMEA data feed of boat's instrument and GPS data

Free iAIS App for iPhone, iTouch or iPad

Integrated 802.11b+g wireless access point

Fully compatible with popular iNavX navigation application for Apple mobile devices

Rugged IPX5 aluminium housing

Requires VHF antenna or dedicated AIS antenna (available as optional accessory) or splitter

Simple "fit and forget" black box solution